Social contribution
RED CUP CAMPAIGN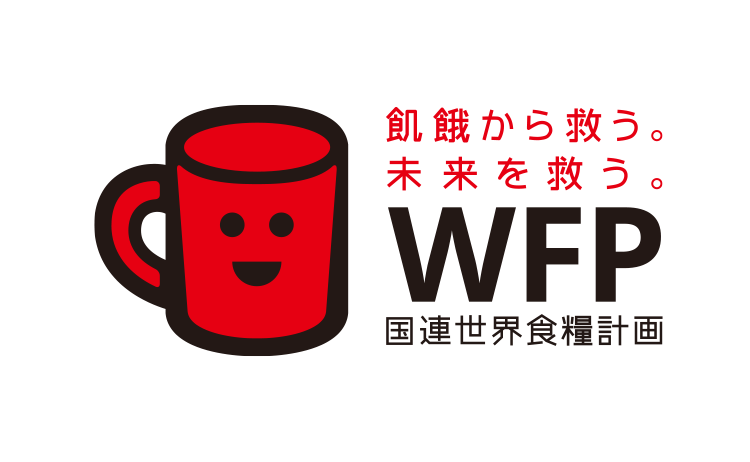 This is a campaign by WFP to deliver school meals to starving children. Every time you purchase "Ryokuoyasai Furikake 45g" and "Kozakana Furikake 45g", it is donated to the United Nations WFP Association and used to deliver school lunches to the children in the recipient of the support.
Reduction of food loss
We work to reduce food loss by donating products that are not suitable for normal sales to food banks as a result of damage to product packaging.
Through food banks, our nori furikake products that accompany rice are provided for children's cafeterias, etc., and the many smiles tell us the children are pleased.
As an example, recently, we donated our products to food bank YURUTI and used them for children's cafeterias.
Food assistance
Through WFP, we contribute to school lunches and "Mother and child nutrition support" (improving children's nutritional status and expanding educational opportunities by providing food distribution and school lunch support to protect the lives of people in conflict and disaster areas).
Educational support
For all generations, we work to connect families and people through the joy of eating together and collaborate with parents, children, grandchildren, and friends through nori study sessions and events where all can make their own furikake at sales offices.
We also contribute to students' academic progression, food education, and career plans by holding recipe contests and jointly developing products with universities related to food nutrition.
Product development
Our product lineup includes a wide range of mineral-rich seaweeds and a variety of nutrients that are often lacking in the diets of people today.
For example, "Ryokuo Yasai Furikake", which is a long-selling product and sold as a nutritional function food, contains vegetable lactic acid bacteria and vitamin B1.
"Kozakana Furikake" contains calcium, vitamin D, and iron. In addition, we also offer the "Kari Kari Ume series" containing citric acid, etc., and we also develop products based on the theme of "Health".
Reduction of plastic waste
We work to reduce plastic waste in order to protect the marine environment, which is an important production place for nori.
Specifically, this leads to a reduction in plastic waste by selling products that are refilled in containers at home.
For example, the "Refill product of seasoned nori 90" released in August 2021 reduces plastic waste by about 90% compared to our conventional product "Seasoned nori tabletop type 100".
Soy Meat
In August 2021, we launched products using soy meat, a plant-based meat that has attracted attention as a source of intake of the important nutrient "protein", as a solution to food scarcity problems and a reduction in environmental impact as a result of future population growth.
Through the sale of this product, we propose food that leads to *ethical consumption by consumers.
Ethical consumption refers to consumption behavior that considers people, societies, regions, and the environment. (excerpted from the Consumer Affairs Agency website)
Environment
FSC Forest Certification Mark
Starting in 2020, we have gradually switched packaging from delivery cardboard to packaging materials with the FSC Forest Certification Mark. This initiative contributes not only to the conservation and protection of natural forests, but also to the supply of safe water and climate change countermeasures by using packaging materials certified by the Forest Management Council, an international organization.
Use of biomass inks
From 2020, with the renewal of long-selling products "Ryokuo Yasai Furikake" and "Kozakana Furikake", we use environmentally friendly biomass ink for product printing.
This initiative has a ripple effect on the reduction of carbon dioxide emissions, which is known as a leading factor in global warming, as well as the protection of ecosystems by reducing chemical substance emissions.
Creating a working environment
Consideration for work environments
At our plants in Fukuoka and Hyogo Prefectures, which are production bases for our products, we work to create an environment where employees can work comfortably regardless of gender or age, taking into consideration safety and hygiene such as "easy-to-read on-site displays", "easy-to-listen on-site acoustics", "hand-held and non-slip installations".
In addition, we work together to promote the acquisition of annual paid leave and reduce overtime work in accordance with laws and regulations, and we work to increase employee motivation and productivity through work-life balance.